I love recording things. Small things. Big things. Loud things. Quiet things. Close things. Distant things. ALL of the things.
I love recording things so much that I've decided to share them with the world! Today, I officially launched Collected Transients.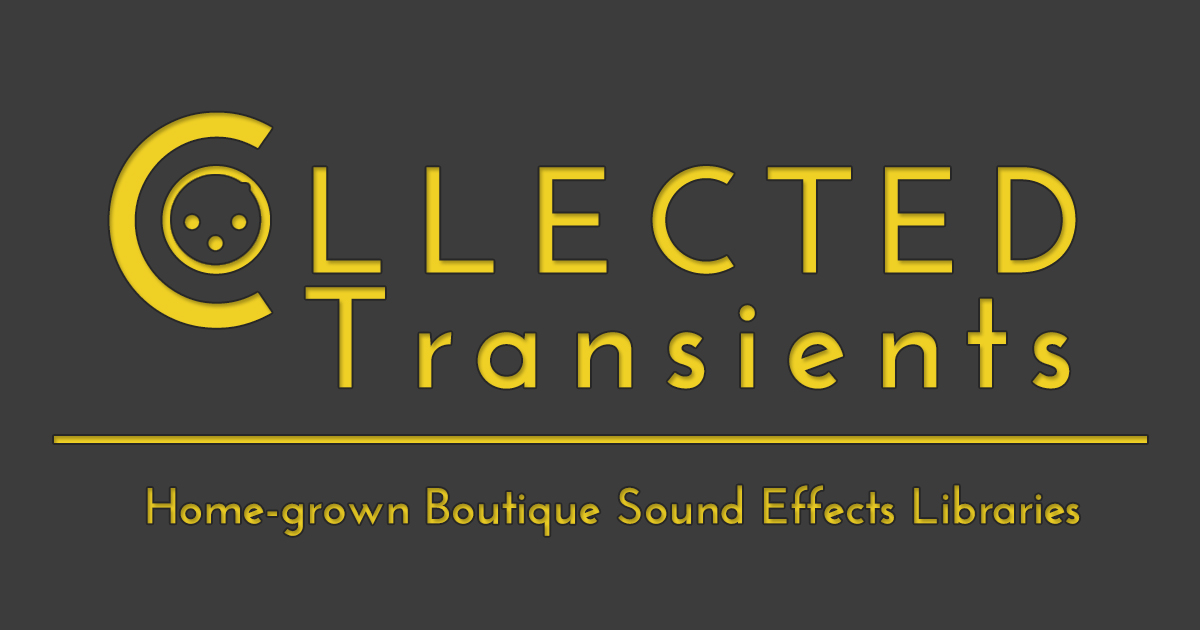 Collected Transients are boutique sound effects libraries by yours truly. There are currently three collections available:
[youtube https://www.youtube.com/watch?v=LfuyrNh3i-U?rel=0&showinfo=0]
Machine Emanation is a contact microphone and drone sound effects library focused on machines. It contains multiple recordings and designed drones sourced from band saw to ceiling fan; table saw to dishwasher, thickness planer to paper shredder; bench grinder to refrigerator. Machines were recorded turning on and off, running, and at any available speeds.
Machine Emanation is built for sound design. Recorded at 192 kHz with Barcus Berry 4000 and JrF C-Series contact microphones; these high resolution recordings make for great unique sound design source material. High sample rates mean far more possibilities for stretching, bending, and manipulating these SFX into your next creation.
Also included are drones designed from each machine. Power tools and appliances are re-imagined as dark rumbling drones and unique atmospheres. A small glimpse of what can be created with Machine Emanation.
---
[youtube https://www.youtube.com/watch?v=C7eVPPQlq10?rel=0&showinfo=0]
MaK is a Kontakt instrument which replicates the sounds of a person using various computer keyboards, mice, or touchscreen devices. This allows you to very quickly perform the foley of using one of these devices via midi.
MaK was created to speed up the time consuming process of editing and/or recording mice and keyboards. After realizing how often this came up in both my commercial and film work, I decided there had to be a better way.
Several recording sessions and Kontakt script headaches later, MaK was born!
There are 15 devices available in MaK: 5 Keyboards, 5 Mice, 2 Touchscreens, and 3 digital keyboards. Each of these devices has been meticulously recorded at a number of different velocities for a very realistic playback performance.
The majority of the devices have 5 velocity layers; from soft to hard. Each of these velocity layers have 32 different samples: 16 for the press sound, and 16 for the release sounds of each device. That's 160 samples per device! MaK will randomly trigger press and release samples for each layer based on the velocity you play the notes. Easy to use controls allow you to adjust additional layers of randomness in both velocity and pitch. All of this adds up to realistic devices, and convincing performance.
---
[soundcloud url="https://api.soundcloud.com/tracks/146804599″ params="color=ff5500&auto_play=false&hide_related=false&show_comments=true&show_user=true&show_reposts=false" width="100%" height="166″ iframe="true" /]
We are the People is a sound effects library filled with protests chants from the 2012 NATO protests in Chicago.
2012 was a bit of an uneasy year for Chicago. Derrick Rose tore his ACL. Blagojevich went to prison. The Chicago Teachers Union went on strike for the first time in 25 years. And the decision to host the NATO summit meant thousands of 'Occupy' and anti-NATO members would both rally to protest.
On May 19th, the day before the summit, there were two large protests in Chicago. In Ravenswood and Downtown Chicago, I marched along with the protesters, capturing the environment from the middle of the roaring crowds. The protesters had a great variety of chant's; ranging from the standard "We are the 99 percent!", to all encompassing chants like "Fight back!", to very specific phrases like "Give Obama prison time".
Two locations give this library two aurally unique crowd environments. The downtown protests reflect off the surrounding buildings, giving them a neat urban quality, while the Ravenswood protests give the impression of a more open environment. Groups of protesters in unified chant ranged in size from just a few to perhaps 200 or more. Many of the recordings have wonderful builds, starting with one or two voices and grow from there, in both size and intensity.
These recordings work great as stand alone effects or for layering in some specificity to crowds. The next time your designing a defiant crowd, bring some authenticity with We are the People.
---
I didn't realize a couple things when I first started on this journey:
1. Good sound effects libraries take a lot of time:
At least a lot more time than I expected. Sure, I knew there was a lot more to it than just recording and editing. But… What's a good library? What do you call the libraries? How do you build a store? How do you host the files? How do you fill out so much metadat without going insane? How do you ensure metadata works across all software? How do you entice people to buy your library? How do you create a nice promo video to show what the library is about. How do you name and organize all of the files? How do you keep reliable backups of so many gigs of said files? How much should you charge? How will you get paid? What can you do to stand out from the huge number of independent SFX library creators out there?…
The list goes on and on. I've figured out a lot! But it seems like there's always a new thing to think about. This has given me a much greater respect for all of the independent SFX people out there. It takes a lot of work, and a lot of time, but we do it because we love it (at least I do!). No one I know is in it for the lavish lifestyle 😉
2. There's a huge, wonderful community of indpendent SFX library creators:
Really! I've experienced nothing but great things in preparation of this launch. There are so many great people out there creating and pushing this field to new heights. Great sites like A Sound Effect, Sonnis, Sound Effects Search, & Wild Track Sound Library that do an awesome job of putting all of theses independent SFX libraries spread across the internet together. There are way too many creative field recordists to name, but I've seen and heard so many innovative libraries come out even in just the last few months. I'm consistently amazed at the libraries people come up with, and proud to be a part of this community.
As a thanks for reading this, here's a little treat:
Use code "coltranslaunch10" to get 10% off any library. Enjoy!